Socialize Like a Homeschooler
A Humorous Homeschool Handbook
It's here! The funniest homeschool book ever is now available!

There are tons of great homeschool books out there that deal with homeschooling methods, curriculum, schedules, inspiration etc. And thank goodness for them, right? But sometimes we need a break to just sit back and not take ourselves so seriously, to laugh at life as homeschoolers.
That's why I am bringing you… Socialize Like a Homeschooler!
If you enjoyed my post of "100 Homeschool Manners" you will love this handbook with many more hilarious cartoons, silly unprofessional homeschool advice, insights for newbies, and more!
---
Socialize Like a Homeschooler is the perfect gift for any homeschool mom, dad, teen, co-op teacher, or homeschool friend!
---
Does your family behave like a homeschool family should? Of course not! We don't have to fit into anyone's mold. As homeschoolers, we know the value of individualism.
But what about socialization?
Ugh. Homeschoolers are often nagged by ridiculous questions, unwanted advice, and unfair stereotypes.
So how should we respond?
Lighten up, roll your eyes and laugh out loud! This handbook will take you through a comical list of :
"100 Homeschool Manners"

hilariously unprofessional advice

inspirational insights to maneuver life as a homeschooler

and many more laughs!
Whether you are just starting out or have many years of experience with homeschooling, this handbook will go perfectly with a cup of coffee and a sense of humor!
Available @:

The Giveaway:
In celebra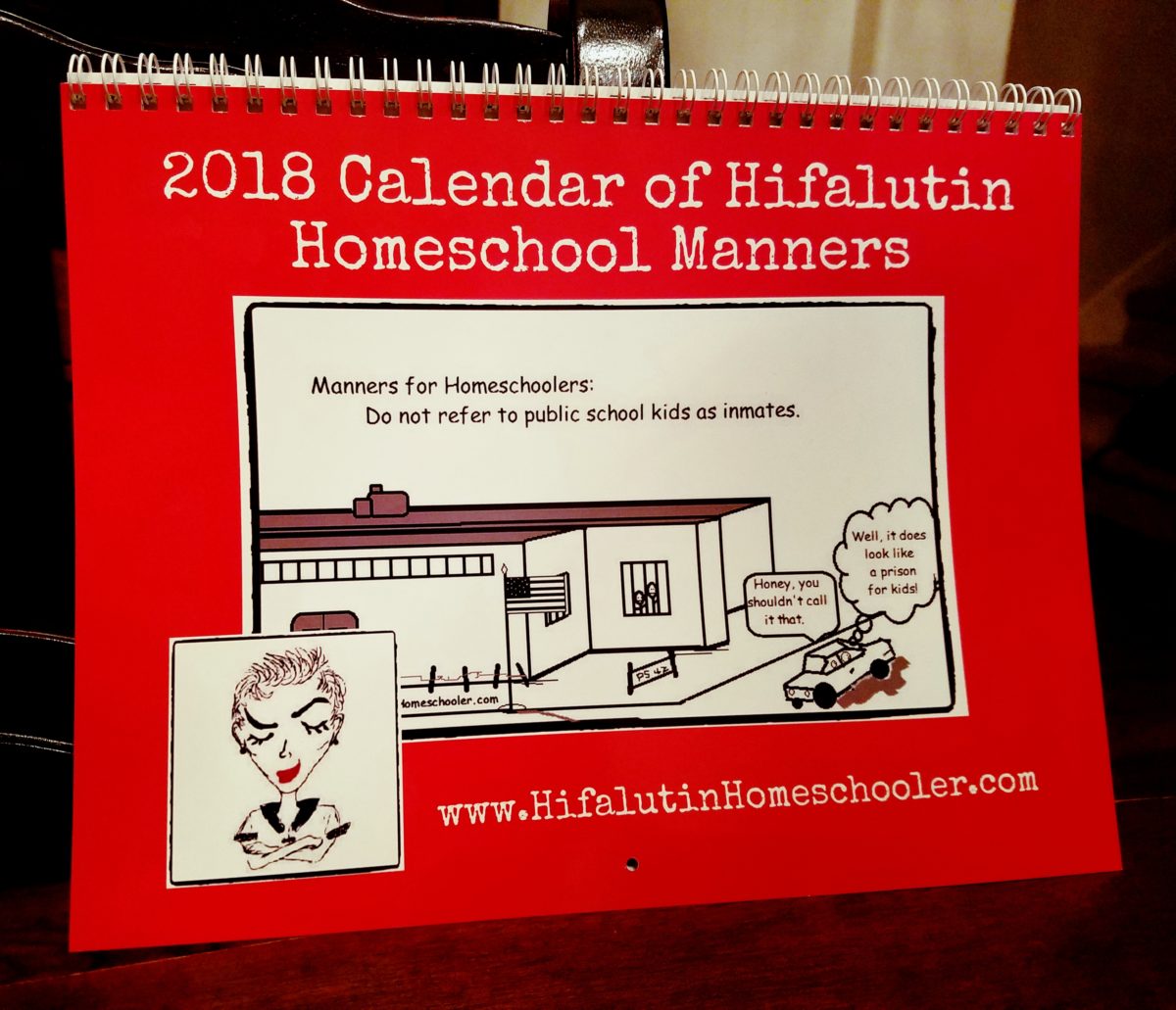 tion of my new book, I'm giving away a "2018 Calendar of Hifalutin Homeschool Manners"!  This 8.5″ x 11″ calendar made specifically for homeschoolers features 12 months of Hifalutin Cartoons depicting one of the "100 Homeschool Manners" from the book, Socialize Like a Homeschooler.  Enter below via rafflecopter.
*Giveaway begins 1/25/2018 and ends 2/5/2018. One (1) Winner will be selected randomly and be notified by email on or around 2/6/2018. When prize is claimed I will announce the winner on this post and on Facebook.
Related posts: