How the Cool Homeschool
I never wanted us to be a stereotypical homeschool family. I decided we were going to be the cool ho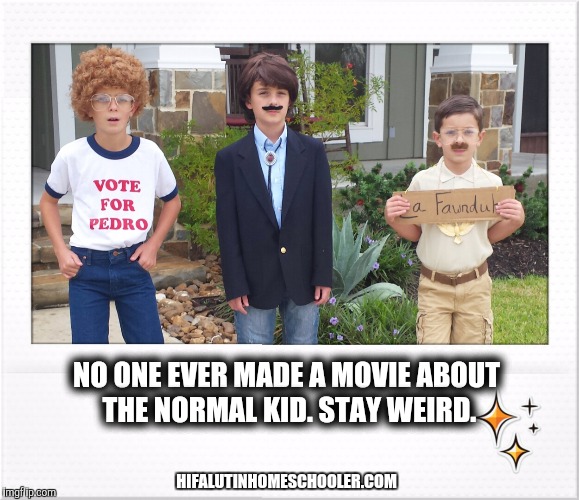 meschool family.
Just think of us as those kids in the 80's teen movies who always wore their sunglasses in class and lazily nodded their hellos to everyone; a sense of being in charge and yet over it already.
We decided we were going to do this whole geeky homeschool thing, but we were also going to hold onto our rebel swagger, not conform to everything we had ever been told that homeschoolers said and did. Which is why we held-out for several years before we ever contemplated joining a co-op or attending a homeschool convention.
Well, that and I am a control freak, but that is a story for another time.
Can We Be Cool and Fit In Too?
We began homeschooling for mostly academic reasons. Of course, we are a Christian family and enjoy the right to teach our kids our faith all day every day, if we choose to. However, we are not the extremely religious type we assumed we'd be expected to be to fit in with congregating groups of homeschoolers.
In all honesty, the only thing I had seen about any homeschool convention were pictures posted on social media from a convention in which the guest speakers were that family with 20 kids and no end in sight, The Duggars.
It obviously just wasn't for us.

Do the Cool Conform?
Co-ops? Homeschool Conventions? Those things were for fanatics, right? Sheesh! Baby steps, people.
Fanatics of what? I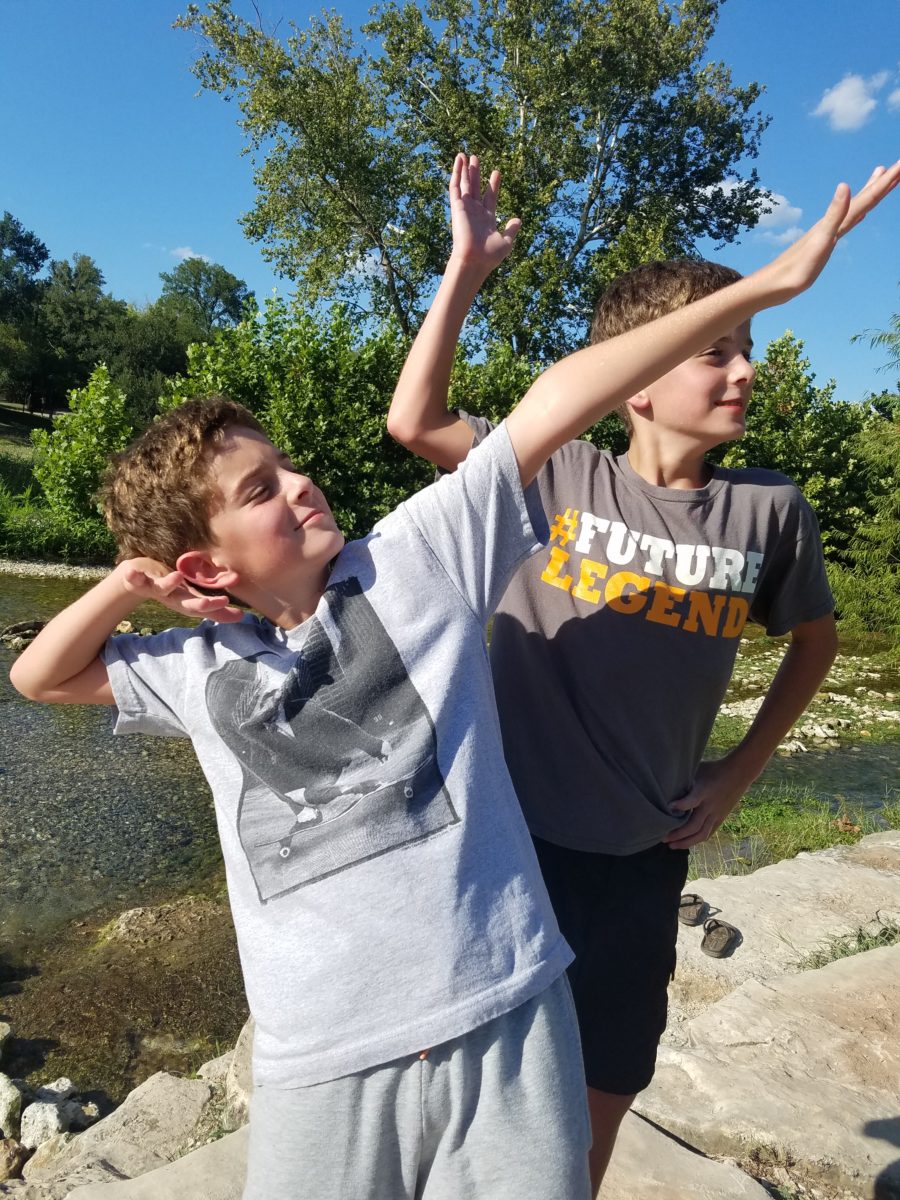 wasn't sure, but I had painted this picture in my head of hordes of helicoptering, ultra-religious, essential oil soaked people who would look down their noses at us for our different reasons for homeschooling.
Then suddenly one of my nerds children began to think he maybe wanted to be a sellout go to middle school, just to see 'what it was like' socially. Which, I should point out, is exactly why he wasn't going. Learning socialization skills in middle school is like learning rhythm by banging your head on a rock.
We had just moved, and the boys needed some friends, and so dangit I humbled myself and started searching for a co-op.  But could we maintain our coolness?
Co-op and the Cool Kids
Well, we joined a co-op, and now we are raising goats and sewing our own clothes after throwing away all three of our TVs, which we came to understand are digital conduits for the devil.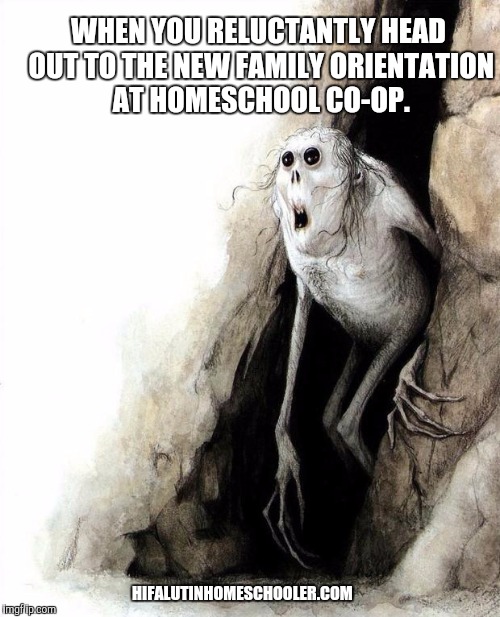 Nah, just kidding. We still swagger.
That year we spent in a co-op opened our eyes to the reality that there is no stereotypical homeschooler. Sure, there are those who make you wonder if they ever actually do any formal learning on any subject. And conversely there are those who are so academically advanced they make you feel like you are teaching your kids remedial studies.
But there are many more that fall in between these two extremes. Completely doing their own thing and rocking it. And most of them are almost as cool as us.
It was we who were being the close-minded judgmental type. But we opened up, made new friends, enjoyed new activities, and learned about methods, ideas, and curriculum we had never heard of before stepping outside our reserved wrapper of coolness.
But Are We Conventionally Cool?
After daring to join a co-op, and surviving the year, we were now venturesome albeit still cool homeschoolers.
We had emerged unscathed and were emboldened to venture further into the homeschool realm. So last spring, curiosity overcame our rebellious nature again, and, needing a weekend away, we decided to try the Great Homeschool Convention in Ft. Worth, Texas.
Truthfully, I was suckered in by three things they were offering: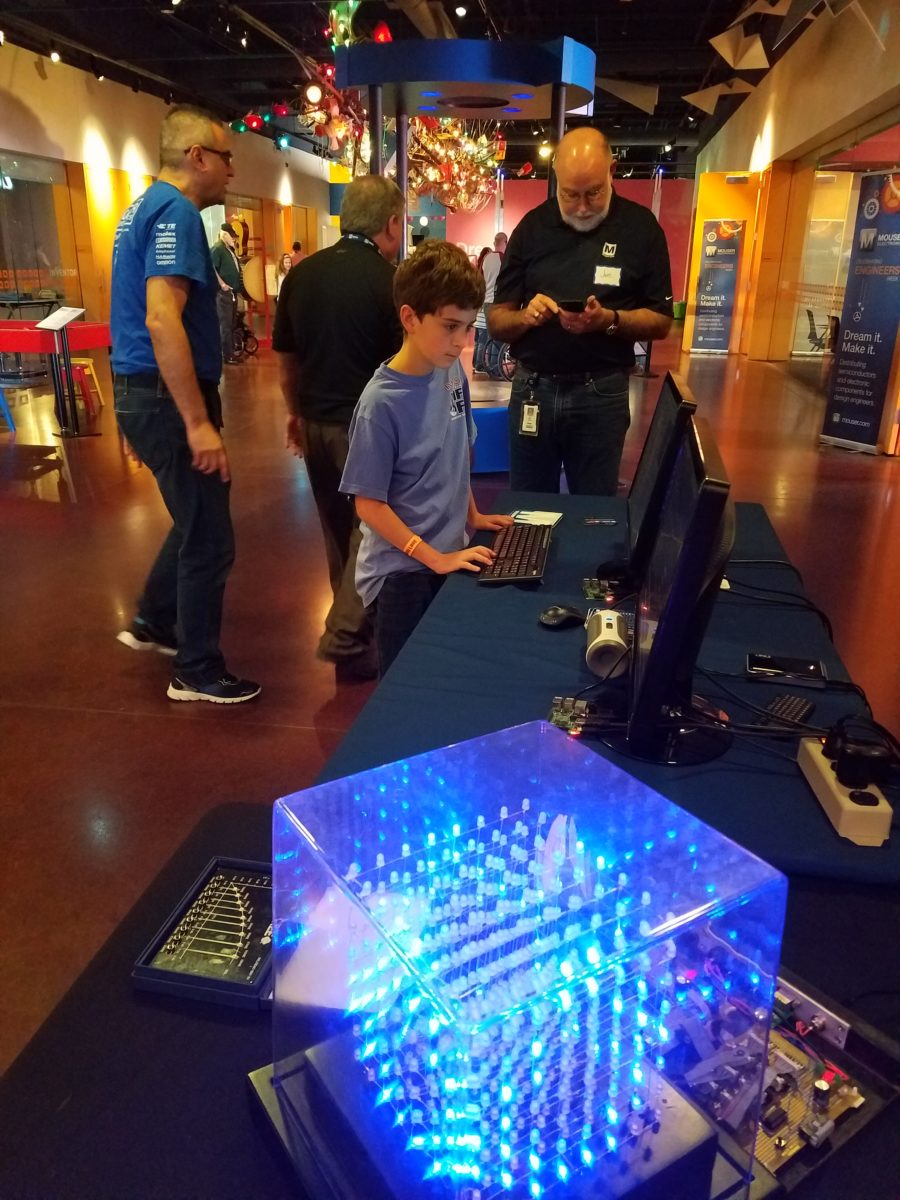 I wanted to hear what Jeff Foxworthy had to say about homeschooling. I mean really that game show should have been titled Are You Smarter Than a Homeschooler?
I was excited to get in that exhibit hall and get my hands on some of the thousands of curriculum pieces I had seen online, but hadn't splurged on in case they… well, sucked.
Ft. Worth, Texas has an awesome science museum, lots of great restaurants, and the historical Stockyards were going to make a memorable field trip for our Texas History unit study.
Keeping it Cool at Convention
And so, on an unseasonably cold weekend in March, my men folk and I headed to our first homeschool convention; where I was forced to don a floor length denim jumper, and we were publicly flogged for the secular portions of our eclectically chosen curriculum.
Nah, I'm totally kidding. It was a fun-filled, eye opening weekend.
Entertained and Inspired

Jeff Foxworthy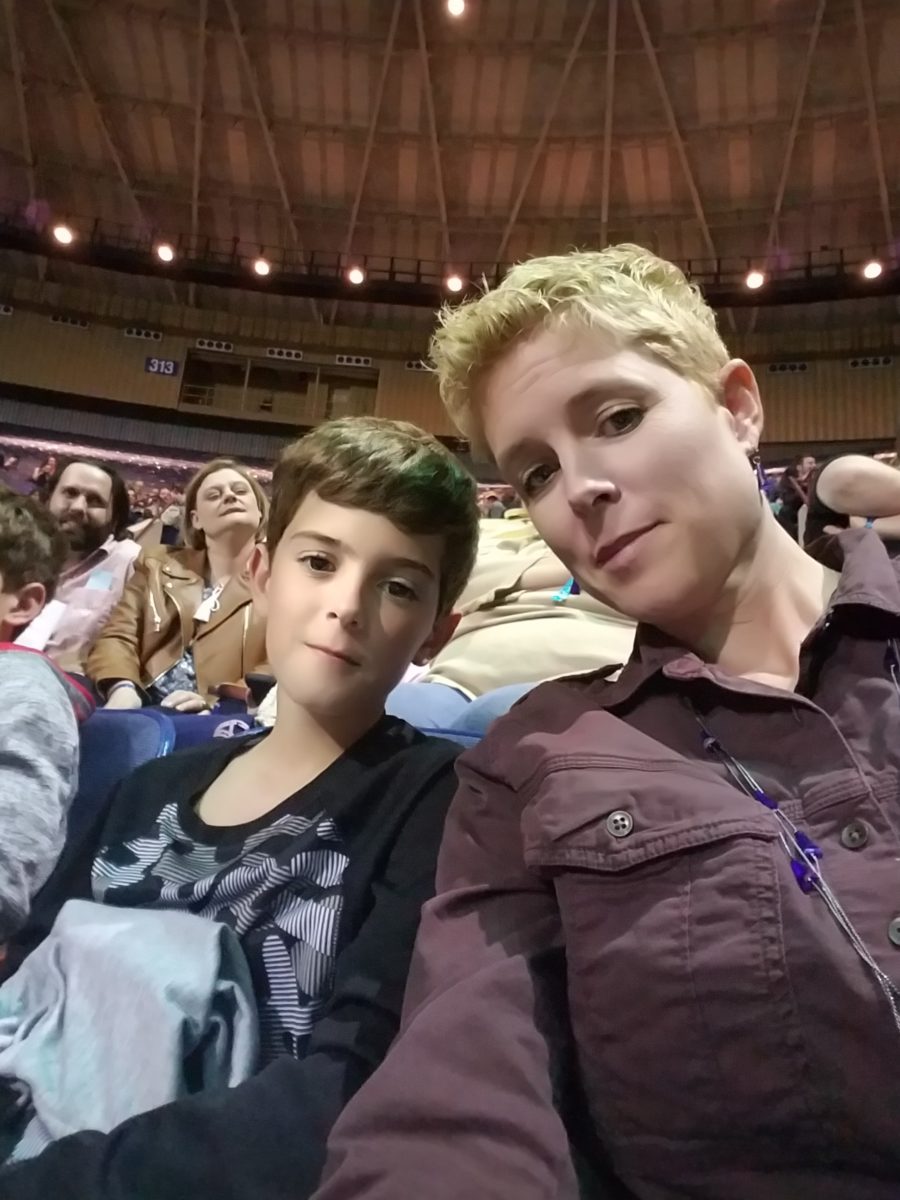 was, of course, hilarious, but the other featured speakers were excellent. My boys were inspired by Nick Vujicic. Lil D had the sweetest smile on his face and stood at full attention throughout the entire talk just to see and hear him better. And now every time my boys try to tell me they can't do something, I remind them that Nick can, so what is their excuse?
Exhibit Hall Heaven
The exhibit hall was nothing short of overwhelming. I probably could have spent 10-12 more hours in there flipping through books and talking with publishers, curriculum writers, bloggers, or just being my usual introverted self and wandering around talking to no one.
My boys had a blast playing with all the computer programming displays and talking all things digital with some of the gaming companies. We were showered with free samples, coupon discounts, cool giveaways like DVDs, pens, keychains, earbuds, and even a calendar and discount tickets to Medieval Times dinner theatre.
Sneaking in on Some Sessions
Keep in mind, no one there knew I was a new homeschool blogger. My plan was to blend into the sea of "normal" homeschoolers (whatever that means) all walking to their own beat. It was rather easy to do since we were all walking around with our mouths hanging open trying to decide which sessions to attend from the many people who were speaking each hour. After all, you can't ride two horses with one…. well, you get the point.
Choosing the speaking sessions I wanted to attend was tricky. I picked topics and titles that sounded like they fit my need and mapped my way to the speaker's rooms. Most of what I heard was enjoyable and insightful, even inspirational. Still, I didn't feel guilty when I got up and left moments into one of the sessions because it clearly didn't pertain to my needs. I respectfully tiptoed out and hauled butt to the other session I had marked.
Not For Me, But Probably For Someone
If I'm being brutally honest, which I usually am I completely disagreed with one of the speakers I lis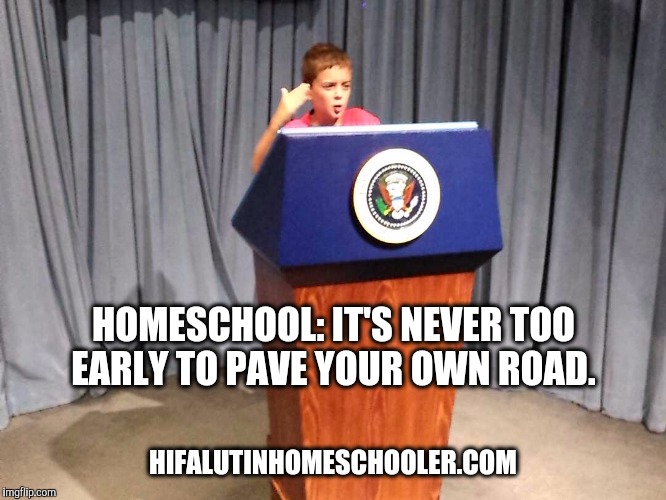 tened to. Still, I stayed waiting for someone to stand up and object like I was doing internally. Mostly I stayed out of morbid curiosity, waiting for the twist at the end, which didn't come, but I still learned something in that hour. There are many really different ways of homeschooling and ways of viewing our purpose as parents.
We can agree to disagree and move on without throwing our bag of exhibit hall goodies, like rotten tomatoes, at the speaker. Just move to the next room. There was something there for every type of homeshooler at every stage of the journey.
And Now the Coolest Part of All…
When we headed home from the convention my husband said, "That was cool. We should do that again next year." In case you don't have a husband like mine, let me explain.  My husband saying this was the equivalent of my kids requesting to clean their rooms instead of playing Minecraft endlessly.
So, we planned to return next year, but went about our coolness and homeschooled on. I blogged on, cracking myself up, and trying to get folks to find some humor in being a homeschooler so we don't take ourselves too seriously and crack up in the wrong way.
And then the coolest thing happened…. well, after I miraculously dug out an email buried in my spam folder having almost missed it entirely.
The awesome people of Great Homeschool Conventions were enjoying my sarcasm and humor so much they contacted me requesting I come and speak at next year's convention. Little ol' me?
I know right!?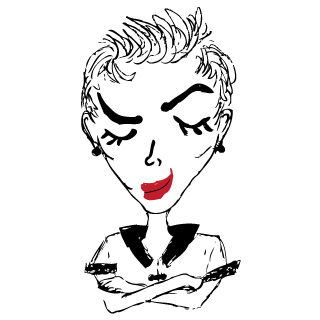 "Are you sure you have the right person? I'm not one of the big name, awesomely inspiring, curriculum writing, save the children bloggers?" I said when I nervously returned their call. Long story shorter… yes, they wanted me. Apparently, my angle of 'keeping it real' was resonating with a few people. New homeschoolers as well as those with years of practice and graduates under their belt were enjoying my honest take on the ups and downs of homeschooling.
And just like that, I anxiously became a speaker at the 2018 Great Homeschool Convention. How cool is this!?
My husband said I shouldn't worry about what I am going to talk about, because I always have something to say. I'm fairly certain he rolled his eyes when saying this. However it goes, I want to inspire laughs and motivation through the bad days and confidence to brag on the great moments, because that is what being a Hifalutin Homeschooler is all about.
I am humbled and excited by this amazing opportunity. And I sure hope to see all of you who have laughed along with me at one of the two conventions I will be speaking at.
Come see me at: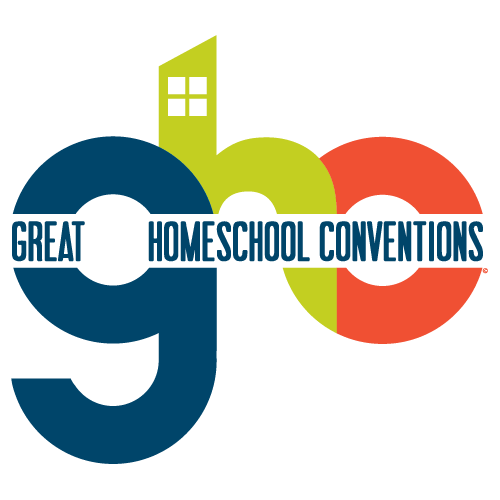 TEXAS Homeschool Convention,  Ft. Worth Convention Center in Ft. Worth, Texas, March 15-17, 2018
MIDWEST Homeschool Convention, Duke Energy Convention Center, Cincinnati, Ohio, April 12-14, 2018
*Hotel discounts available at all locations
Can't make it to see me? The next best thing:
Southeast Homeschool Convention, TD Convention Center, Greenville, SC, March 8-10, 2018
California Homeschool Convention, Ontario Convention Center, Ontario, CA, June 14-16, 2018
Missouri Homeschool Convention, St. Charles Convention Center, St. Charles, MO, July 19-21, 2018
What to Expect at a Great Homeschool Convention:
Hundreds of workshops and speakers on hundreds of helpful and entertaining topics
Featured Speakers: Matt Walsh, Gianna Jessen, Randall GoodGame etc.
Huge exhibit hall full of curriculum, games, technology etc.
Kids events provided by Giant Cow
Memories and inspiration, a weekend away


Come on! You know you want to see for yourself.

After all, the cool homeschool kids (and parents) are doing it!
Related posts: